We are calling for people to come up & join the protests.
Come up straight away or join us for the Days of Action this Friday 1st and Saturday 2nd April. Accomodation & food provided, donations welcome. email or txt 0851141170 for details.
The injustice faced by the community here is symbolic of the corruption and problems faced by people all over Ireland.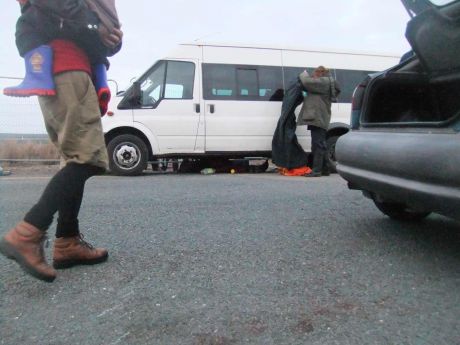 For a legal briefing see here http://www.rossportsolidaritycamp.org/content/legal-info
This morning Shell began to start work on their highly controversial on-shore pipeline at Aughoose in Erris Co. Mayo. Shell are attempting to build the fences around their planned tunneling compound and with construction on-going only a few hours, Gardai have already violently attacked protestors with two people currently receiving medical attention one with suspected broken ribs. Subsequent protests were broken up, by Gardai and private security, with Jim Farrell, former army ranger and managing director of private security firm IRM- S being personally involved.
This current work is the final attempt by Shell to drive a highly dangerous experimental unrefined raw gas pipeline through North Erris. Several other pipelines routes have been successfully resisted by the communities in Northern Mayo. This latest attempt in what Shell describe as the final proposal is worrying for a community who have experienced first hand Shell's poor safety record. This morning Shell are taking the first steps in a two year project in trying to fence off a large area at Aughoose. They intend to use this compound at the start point for a 5km tunnel that will run to the pipeline landfall at Glengad.
Shell is no doubt keen to act, given the almost daily criticism in the mainstream media of the terms of the deal they received from the Irish Government under the direction of Bertie Ahern and Ray Bourke. With a recent announcement in the UK that taxes on Oil and Gas production will rise, the Irish government is under ever increasing pressure to get a fairer deal for people in Ireland. This and the pending legal challenge are no doubt forcing Shell to hurry construction on the project which is already several years behind schedule.
The joint security from the Gardai and the secretive controversel private firm IRM-S is worrying. In 2009 the two individuals who featured heavily in the Film "The pipe" Patrick O Donnell and Willie Corduff were violently attacked. The attack on Mr O'Donnell saw his boat sank at sea by armed and masked men.
Shell choose their day to start construction carefully, when several campaigners were on their way to support Maura Harrington who has been summonsed for sentencing for charges that are now over a year old. This action is widely seen as blackmail by the State in an effort to end Mrs Harrington's resistence to the pipeline. The timing of Shell's action's today suggests they are being provided details of when court cases are happening, there have already been many arrests that have been timed to remove campaigners from the area at other key phases in the construction, most notably the 2008 and 2009 arrests of Pat O'Donnell while he worked at sea in order to allow the pipe lying ship the Solitaire to lie pipes across his fishing grounds.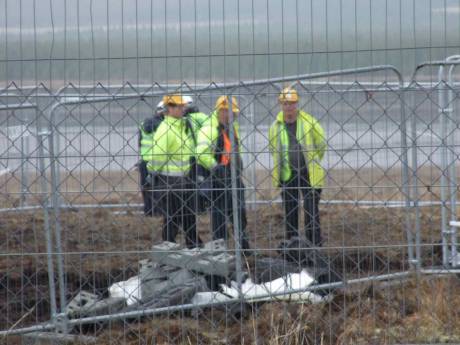 Posted Date:
29 March 2011