Even after the roadblock was cleared, protesters kept delaying every tractor delivery
On Wednesday 27th July two people locked their arms into a concrete barrel or 'lock-on,' blocking the road between Shell's Bellanaboy refinery and the tunnelling compound in Aughoose. This stretch of road has been the focus of the protests this week with protesters on bikes and on foot blocking tractors in addition to the tripods and lock-ons.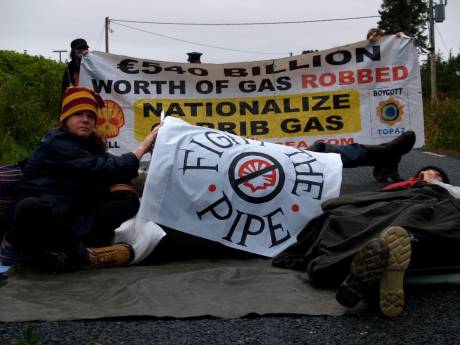 Concrete lock-on
Wednesday's lock-on lasted almost 8 hours- from 7am to 3pm- during which time no tractors or trucks were able to bring anything from the refinery into the compound at Aughoose.
Mary Walsh, one of the people in the lock-on, said "This is the start of programme of direct action by Mayo women for the next two years. We have no other choice to protect our families."
The two campaigners were cut out of the concrete lock-on and arrested under the public order act. For the remainder of the day, people stayed on the road climbing up on top of tractors in order to delay deliveries. Again every single tractor leaving Bellanaboy refinery had a garda convoy 'protecting' it, but people were still able to get in front of the tractors and climb up them. No more than ten tractor loads were able to make deliveries for the rest of the workday.
The road blockades have begun again early Thursday morning, with one person on top of a tractor and currently another on a tripod. Keep checking Indymedia for updates and photos on Thursday's road blockade. We are building up to a Mass Day of Action on Friday 29th July, come up and join the protests.
To contact the camp, 085 114 1170 or rossportsolidaritycamp[at]gmail[dot]com

by Stevo - ShellToSea

Thu Jul 28, 2011 17:05

several pictures from yesterday.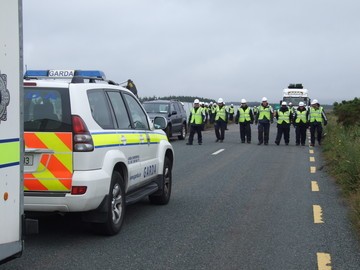 cutting team clear up after lock-on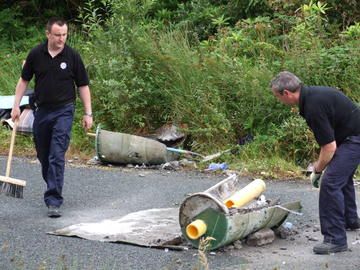 IRMS "security" block the road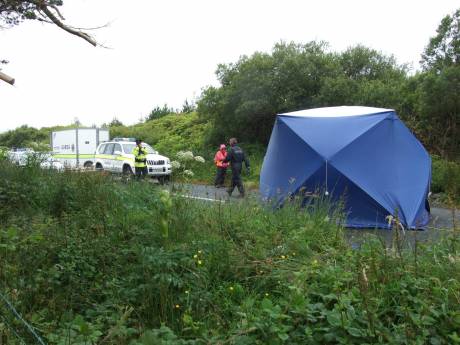 cutting scene with blue tent erected
Posted Date:
29 July 2011