Six people block Shell's haulage, no arrests

On Friday 20th April haulage was stopped as six campaigners stood in the road outside Shell's Aughoose compound. This meant work at both the Glengad and Aughoose compounds was stopped as one tractor and three lorries waited in the road.
Around 10am six people went for a stroll along Shell's haulage route, and stopped a tractor from going into the tunneling compound in Aughoose. Soon after three lorries came along the road and were forced to stop for the roadblock. Local traffic was still able to pass on the other side of the road, but not Shell's traffic. Eventually the gardaí arrived to facilitate Shell and move people out of the road.
Without their faithful friends the gardaí, Shell would have a hard time carrying out their haulage without the consent of the community. As it is, the constant presence of gardaí and Shell's private security up and down the road- not to mention the lorries, tractors and associated traffic- makes residents feel as if their community is under seige.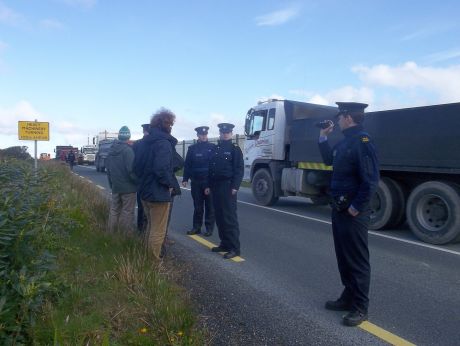 See more photos from the day here.
If you would like to join the protests, come up and visit the area. Every Tuesday morning local residents and supporters meet outside the main gate of Shell's Bellanaboy refinery at 8am, and spontaneous protests happen throughout the week.
The next Day of Solidarity is Friday 4th May. The rest of the bank holiday weekend will be a work weekend at the Rossport Solidarity Camp, come up and lend us a hand! See the poster and more details here.
Posted Date:
22 April 2012